Passengers In Motor Vehicle Accidents Have Legal Rights To be Compensated For Their Injuries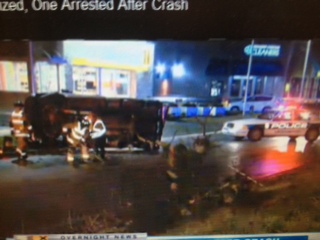 Lexington, Kentucky: Pickup Flips & Lands On Its Side In McDonalds Parking Lot:
The driver was arrested and the passenger was taken to the hospital after a pickup truck swerved across a median on Man O'War Blvd in Lexington, Kentucky into on coming traffic, crashed through a fence, rolled down an embankment, and ended up on its side in a McDonald's parking lot. This single vehicle Kentucky car crash happened at 2:45 a.m.
Passengers in vehicles have legal rights when the motor vehicle they are riding in has an accident. Even if the accident is caused by the driver of the vehicle they are passengers in. Passengers in vehicles involved in accidents can, under KY law, seek monetary damages compensation for medical bills, lost wages, and pain & suffering.

For more information on the legal rights of passengers of motor vehicles involved in Kentucky motor vehicle accidents, including what compensation they can seek under the law, contact Kentucky auto accident attorney Brent T. Ackerson and the Ackerson Law Offices at (502) 882-5176 or you can contact us directly online by (clicking here) and submitting your inquiry to us online.