John Renfro Injured In Franklin County, Kentucky Car Accident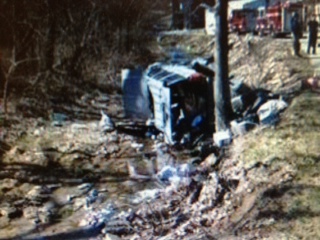 A single car rollover accident occurred in Franklin County, Kentucky. The accident happened around 11:00 a.m. on Bark Branch Road. Reports indicate that the vehicle was driven by Rebecca Walton, who overcorrected her driving and rolled the vehicle into a creek. The passenger in the vehicle was John Renfro. Both Mr. Renfro and Ms. Walton were airlifted to UK Hospital to be treated for their injuries. The full causes of the crash are still under investigation.
John Renfro, as a passenger in the vehicle, is not liable for his injuries, and will be able to make a legal claim against Ms. Walton's auto insurance for the damages he has suffered from this accident. Under Kentucky law, he can seek compensation for his medical bills (which will be substantial due to airlifting him to the hospital), future medical bills, any lost wages he may incur for time missed from work due to his injuries, and pain & suffering compensation related to his injuries.
While no one blames Ms. Walton for this crash, under the law she and her insurance company are still liable to compensate Mr. Renfro for what has happened. He will have medical bills, injuries, and suffering from this crash. Such is the reason we as drivers have insurance in the first place, to cover situations where unintended accidents occur. Often, when people are friends and an accident occurs, the injured party may not want to have a lawyer file a claim against their friend. However, in these cases, our firm advises that the proper way to view these claims is that they are against the insurance company, for which the premiums have been paid to the insurance company to cover these types of accidents. It's a contract with the insurance company, for which the insurance company was paid, and for which the insurance company now owes an obligation to insure the accident.

For more information on the rights of persons hurt or killed in Kentucky car crashes, including how a legal insurance claims is made in such matters, contact Kentucky Car Wreck and Wrongful Death Attorney Brent T. Ackerson and the Ackerson Law Offices at (502) 882-5176 or you can submit your information and questions to us directly online by (clicking here).