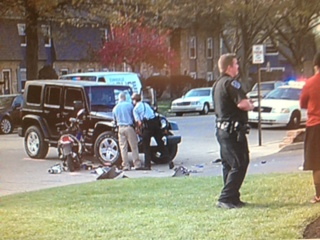 Moped and motor scooter riders in Kentucky have many of the same legal rights as car drivers under Kentucky Law, when it comes to motor vehicle accidents. However, the protections can vary, especially depending upon the type of moped or scooter being ridden and the insurance coverage available.
The photo herein may not seem like too serious of an accident, but the scooter's driver and passengers in these types of wrecks are thrown from the vehicle and usually suffer severe injuries. In this photo, it appears that the driver of the SUV turned in front of the scooter and failed to yield it the right of way as it traveled straight on the road.
For more information on the legal rights of persons injured or hurt on Kentucky moped or Kentucky motor scooter accidents click here. (the link to the Ackerson Law Offices).