Kentucky School Bus Accident Injures Children In Eastern Kentucky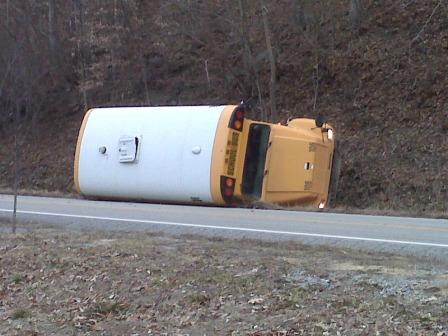 Over 20 Children were injured this week when an accident occurred between a car and the school bus on U.S. 421, near the Rockhouse Community, in Leslie County, Kentucky. The school bus was knocked on its side as a result of the crash. Initial reports specify there were 28 children on the bus, all of whom were taken to the hospital. The school bus was headed east on U.S. 421 when the accident occurred with a vehicle traveling westbound on U.S. 421. While police have not yet specified charges, they have reported that charges are pending against Roger Sizemore, the driver of the vehicle which caused the bus to crash. From the initial reports, the driver of the car is at fault and will be liable for the injuries to the children.
An accident of this magnitude, involving so many children, can rock the foundation of a small community. As information is released, this report will be updated.

For more information on the rights of persons injured in auto accidents or bus accident, including passengers, contact the Ackerson Law Offices, (502) 882-5176, and Kentucky injury attorney Brent T. Ackerson. You can email Brent directly at by clicking here.